Since Go Venture's Monster Massive is cancelled…now you got two options. You got Insomniac's Escape From Wonderland or you got HARD's Haunted Mansion.
Halloween is always a fun time of year and for the past couple of years, HARD has been putting on HARD Haunted Mansion at the Los Angeles Shrine next to USC. We're always a fan when you don't have to trek 30+ minutes to check out some nice choons and seeing how it's a rarity to check out any EDM on a large scale in the city of Los Angeles – the event is especially a nice treat.
We here at DIRTYCHOONS will be checking out The Shrine where HARD will be held again this year.  We're particularly swayed by SKRILLEX, SKREAM AND BENGA and 12th PLANET.
 CHECK IT.
 I think a two day session is in order…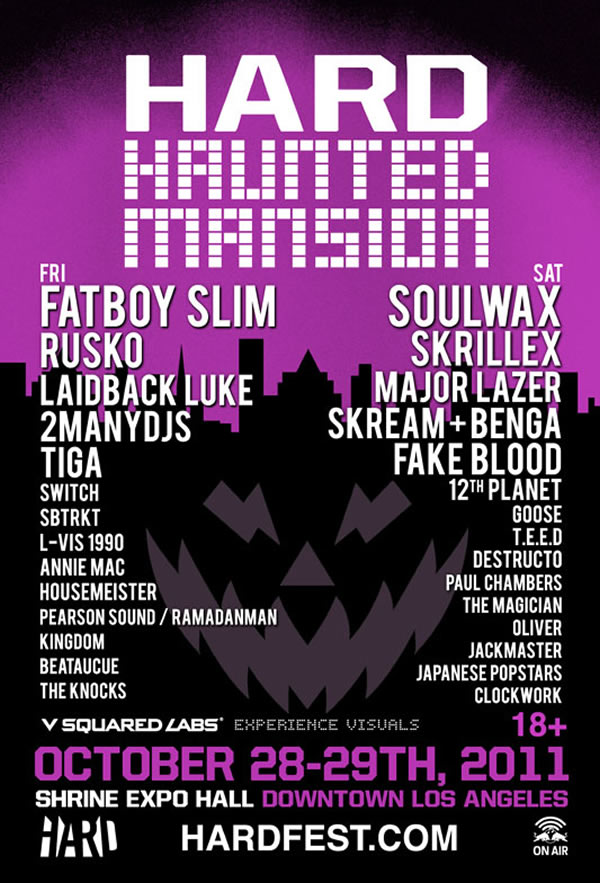 SHRINE EXPO HALL
700 West 32nd Street
Los Angeles, CA 90007
VIEW GOOGLE MAP
HOURS: 6 PM – 2 AM.
AGE LIMIT: 18+ to enter, 21+ to drink.
Rain or shine.
###
Set Times RELEASED 
FRIDAY
HARD Stage
6:35-7:25 – Annie Mac
7:30-8:30 – SBTRKT
8:40-9:40 – LaidbackLuke
9:50-11:05 – 2ManyDjs
11:20-12:35 – Fatboy Slim
12:50-1:50 – Rusko
HARDER Stage:
5:50-6:30 – The Knocks
6:30-7:10 – Beataucue
7:10-7:55 – Kingdom
7:55-8:40 – Special Guest
8:40-9:40 – Housemeister
9:40-10:40 – Pearson Sound/Ramadanman
10:40-11:40 – L–Vis 1990
11:40-12:40 – Switch
12:40-1:50 – Tiga
SATURDAY
HARD Stage:
6:25-7:15 – Oliver
7:20-8:20 – Goose
8:30-9:30 – Destructo
9:30-10:30 – Fake Blood
10:30-11:30 – Skrillex
11:30-12:30 – Major Lazer
12:50-1:50 – Soulwax
HARDER Stage:
6:20-7:05 – Clockwork
7:05-7:50 – Japanese Popstars
7:50-8:45 – Jackmaster
8:45-9:40 – The Magician
9:45-10:40 – Totally Enormous Extinct Dinosaurs
10:45-11:40 – Paul Chambers
11:40-12:40 – 12thPlanet
12:40-1:50 – Skream & Benga